In the designing & creating of the ballroom dance dresses, with all of my ballroom dance experience, being in it for over 25 years, I'm aware of what styles & colors look best on my clients for their particular body type plus style of dance or dances they are performing, as well as their needs for comfort at their level of dance & budget.
I actually started my creating on Barbie dolls as a young girl, then designed & made a lot of my fashions through out my school years. With my background of creating fashions since I was a young girl, plus being in the ballroom dance business since 1981, I have created & feature a line of exquisite, custom designed ballroom dance dresses available for ballroom, Latin, swing, tango, theatrical & country dancing. There are now several other categories such as men's Latin-rhythm shirts, social dresses & more. I have created & will custom make, as well, dresses or costumes for any special occasion such as prom dresses, pageant dresses, skaters & solo dancers!
Many of my most exciting years were owning a Fred Astaire Dance Studios for 13 years, teaching ballroom dance, plus competing both pro/am & professionally for over 20 years! I had so many amazing students & pro partners! I have won numerous awards for my competitive dancing & teaching skills, & in 1994 decided to venture out on my own.  I will treasure the years there, plus all those who have helped me develop the fine teaching & dancing skills I now possess.
You can choose from existing designs or we can work together to create whatever you desire from classic,conservative & simple to very ornate, elaborate & risque…plus anywhere in between to suit your personality, event & budget!!
Customer satisfaction is a priority! I give my clients exclusive, undivided, special attention! Consulting with you, giving very special attention to your individual needs & desires for style,color, fit & budget, from the simple designs for beginner ballroom show dancers or those who desire simplicity, to the very ornate, elaborate for the more seasoned ballroom dancer who desire to sparkle & shine with a lot of glitz & glamour… to assure you are satisfied… plus feel like a star!!
In this age of technology & being able to purchase many of my dresses online, I love working personally with my clients. So, if you see something online that you love to purchase & have questions or you would like something similar in a different size or color, give Linda Crystal a call at 440-327-7121. I'm here to help.
Once your ballroom dress is done & delivered or picked up, if there are any adjustments of any kind that need addressed, they are taken care of in a timely matter!
The ballroom dress designs, as well as others I create are done so with a deep passion & it gives me great pleasure to also custom create for my clients!
I have a private showroom filled with an array of gorgeous ballroom dress designs all ready made in various sizes & categories, including ballroom gowns, Latin/rhythm & Swing dresses, tango dresses...as well as Social ballroom dance dresses,  bodysuits, skirts, sets,  pantsets and so much more!
Most recently I have created several Special Collections!
If you are in the area or will be, I welcome you to make an appointment to visit the private showroom with plenty of private time to try on as many fashions you desire, along with undivided & personalized attention! It is well worth a trip to experience an enchanting journey! Many of my clients remark "It's like a ballroom dance dress candy store…so many yummy choices!"Take a peek at the main showroom! 
And…of course, I always welcome custom work, which is a specialty!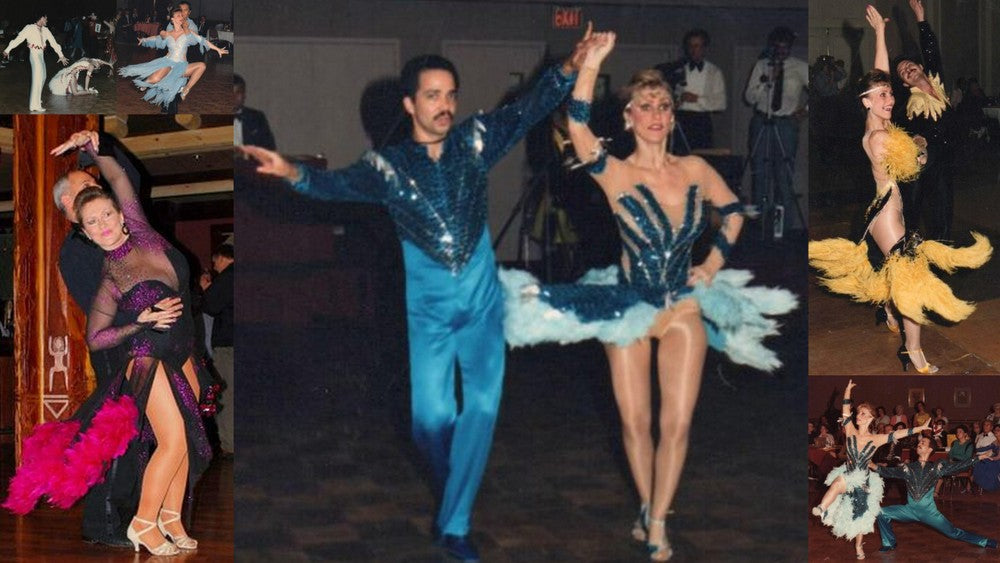 Dancing & designing…. two of my life-long passions, and with these passions I can help bring MORE FUN,BEAUTY, ELEGANCE, FANTASY & PASSION to YOUR life!!
Shop All Ballroom Dresses
- My very deepest & main passion is now designing & creating ballroom dance dresses & fashions, & have been doing this for over 35 years.
- Have custom designed Latin/rhythm, tango, swing, ballroom & country dance costumes, wedding gowns, evening gowns, as well as pageant gowns, many skating & solo dance costumes for clients nationally through the years.
- In ballroom dance business for over 25 years & love it with a deep passion!
- Numerous awards for teaching skills & competitive dancing.
- Specialize in American Style Rhythm & Ballroom Dance…plus Theatrical.
- Take pride in making sure all clients are 100% satisfied with all of my services!!!
Ballroom Dance Lessons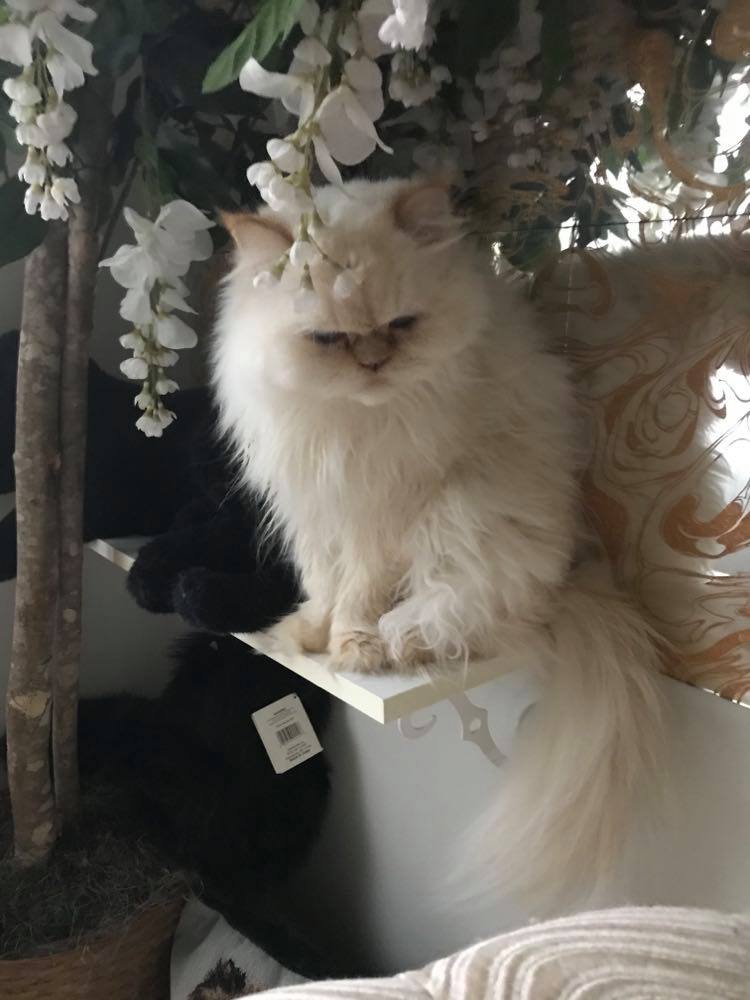 Meet Crystal, My Cat!
As well as my passion for ballroom dance & creating gorgeous ballroom dance dresses & other fashions, I have a very deep passion for all animals…but mostly cats, domestic & wild! This is my Himalayan Rescue kitty that I recently adopted in September of 2018. A friend of mine pointed the story out to me where some lady tossed her to the curb in a park! Can you imagine that?The Valley Pet Rescue had named her "Crystal"....talk about purrfect fate!!