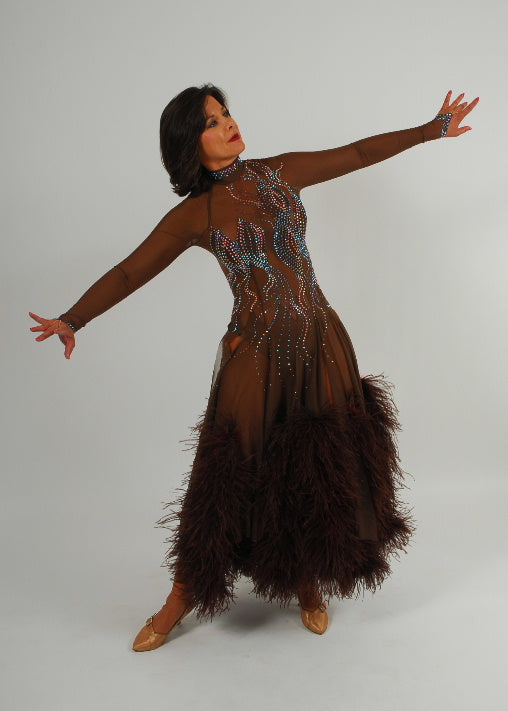 Custom Made Ballroom dresses are a specialty of mine! Working together, we can create the Ballroom dress, Latin dress, Tango dress or other dance fashion of your most passionate desires!
 Do you desire a look truly yours alone for your ballroom dance dress, Latin-rhythm dress or other fashion for a special occasion? Or, do you see some favorite ballroom dresses, Latin-rhythm dresses, tango dresses or other dance fashions that you absolutely love at our site, however, you would like a different color, more or less rhinestone work, maybe even a shorter version, as well as a different size?
You can choose from existing ballroom dress designs or we can work together to custom make whatever you desire from classic, conservative & simple…to very ornate, elaborate & risque…plus anywhere in between to suit your personality, event & budget!
Our Sheer Beauty, brown ballroom dress with ostrich feathers is just one of the favorites that has been sold! However, a similar can be custom made in any color you desire! A Latin/rhythm version can be custom made as well!
You can choose separate features from designs that are all ready at the site:
Select necklines, skirt lines, sleeves, backs & such that you favor. Next select color or colors. You can choose your favorite colors or the palettes you know look best on you...or…I can help you with that. 
Variations can be custom made from existing Ballroom dress, Latin/rhythm dress, & Tango dress designs you see here at the site, as well! 
See Some Ideas for Custom Orders Here
See our Gallery of a few previous custom orders!
More ideas from a few past favorite ballroom dresses to utilize for a Custom Made Ballroom Dress Here! 
At least 8 weeks notice is usually required for a custom order, so keep that in mind! In most cases, we will be able to have your custom order done 1-2 weeks ahead of the time of your event. However, if other custom orders come in that need to be done at an earlier date, you will have your custom order at least 5-7 days ahead of your event.
Any Questions or to get started...call Linda Crystal at 440-327-7121
Just one of Many Custom Orders

I created a Converta Ballroom Dress version of Sheer Beauty that includes a shorter Latin skirt that she can switch to, as well as a tango skirt with aqua flounces for Louise in Pennsylvania, just one of the many custom orders I've done through all the years!  See a few more at my testimonials page !

Many variations can be custom made especially for YOU utilizing this gorgeous pink plus size Fringy Latin/Rhythm Dress that is long gone, purchased by my beautiful client & one of my models, Sonji! Possibilities are endless!

Latin/Rhythm Fringy Pantsuits
We can always start by using a base idea, have the main dress constructed, and then...start adding...Swarovski rhinestones, from a simple touch…to as fabulously ornate as you desire! You can choose feathers & fringes of all sorts, hand beading, spangles...whatever YOU desire!
Custom Made Ballroom Skirts
Just explain what you would love in a ballroom dance skirt, like Shannon Kazee from Columbus did, or choose some ideas from Ballroom Skirts or from our newest Converta Style Skirts!
Have one made in your color preference & size.
Custom orders valid only when expressly accepted by Crystal's Creations. 
If you choose to go against our recommendations of which fabrics to use to create your dress, we have the right to not accept your order. Furthermore, if we accept your order & had purchased the chosen fabrics, trims & such, then you decide you want Crystal's Creations to use other fabrics not recommended by us, we will not be responsible & can ask you to take & have it made or completed elsewhere.  
Custom work, other work done on dresses or dresses left with Crystal's Creations to be altered or embellished needs to be paid for & picked up within 8 months of drop off time, or there will be a storage fee of $25.00 per month per item.